Angel, otra luchadora clásica de la saga, se suma a la amplia plantilla del nuevo KoF 15 que llegará el 17 de febrero; en los últimos días celebró una beta abierta.
SNK continúa revelando nuevos personajes de la plantilla que estará disponible en el lanzamiento de The King of Fighters XV. En esta ocasión es el turno de Angel, que se suma a Whip, Dolores, Heidern, K', Ash Kukri, Ash Crimson, Antonov, Athena Asamiya, King of Dinosaurs, Ramon, Vanessa, Luong, Blue Mary, Ralf Jones, Clark Still, Leona Heidern, Ryo Sakazaki, Robert Garcia, Chris, Shermie, Mai Shiranui, King, Yashiro Nanakase, Terry Bogard, Yuri Sakazaki, Andy Bogard, Chizuru Kagura, Kyo Kusanagi, Joe Higashi, Iori Yagami, Benimaru Nikaido, Meitenkun y Shun'ei.
Vídeo: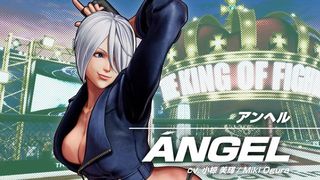 Angel es una luchadora que debutó en KOF 2001 y posteriormente apareció en The King of Fighters 2002, The King of Fighters Neowave y The King of Fighters XIV, entre otros. Posee unas habilidades sobrehumanas al ser modificada por NESTS y su estilo de lucha es similar al Muay Tai, aunque también utiliza algunos movimientos de lucha libre profesional -de hecho algunas de sus animaciones clásicas estaban inspiradas en Dwayne "The Rock" Johnson.
Celebró su beta abierta durante el fin de semana
En los últimos días hemos podido probar The King of Fighters XV con una beta abierta en PlayStation. Nos dejó buenas impresiones gracias a un "ritmo de juego rápido, combates emocionantes y un apartado técnico renovado. El juego online debería ser bastante sólido y debutará con una enorme colección de luchadores –más al menos seis que llegarán en contenido descargable-. La desarrolladora asegura que es el KoF más ambicioso de su historia, y si bien tendrá muy difícil causar el mismo impacto de los clásicos de hace 25 años, como mínimo va a encantar a los fans que disfrutaron con KoF XIV: todo lo que hemos visto en esta versión apunta más alto que nunca".
The King of Fighters XV está previsto para PlayStation 5, Xbox Series, PlayStation 4 y PC, y llegará el próximo 17 de febrero.