Thunderful Games, responsables de la saga SteamWorld y juegos como The Gunk o Planet of Lana, celebrarán un evento este miércoles con noticias y anuncios de nuevos proyectos.
Este miércoles 10 de noviembre a las 20:00h (hora peninsular española) se celebrará Thunderful World, un evento virtual que Thunderful Games ha organizado para anunciar nuevos juegos y compartir novedades de su catálogo. Esta retransmisión estará conducida por Mark Hamill, actor conocido por dar vida a Luke Skywalker en la franquicia Star Wars y que recientemente ha estado relacionado con el mundo del videojuego por su supuesta participación en la serie de The Witcher de Netflix dando vida a Vesemir.
La retransmisión se podrá ver tanto en la página oficial del evento como a través de los canales oficiales de Thunderful Game en Twitch y YouTube.
You're invited to #ThunderfulWorld our first ever digital showcase hosted by Mark Hamill @HamillHimself ! Expect unannounced new titles and updates.

🌩️Save the date 🌩️
10 November: 11am PT / 2pm ET / 7pm GMT
Twitch, Youtube, https://t.co/s77MPS8LHH pic.twitter.com/UIM0gNw0It— Thunderful Games⚡Tune into #ThunderfulWorld Nov 10 (@Thunderfulgames) October 28, 2021
Thunderful Games es un nombre que puede no sonarnos demasiado, pero si hablamos de Image & Form quizás la cosa cambia: la compañía responsable de la saga SteamWorld y del esperado The Gunk anunció recientemente un cambio de nombre a Thunderful Games, compañía a la que ahora pertenecen bajo el sello Thunderful Group y que además de desarrollar juegos de esta franquicia también están relacionados con la distribución, edición y marketing de juegos como Lost in Random, Industria o Lonely Mountains Downhill.
Vídeo: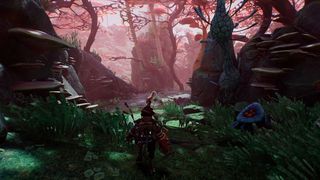 ¿Qué podemos esperar del Thunderful World?
La compañía ha confirmado en su blog oficial que durante Thunderful World veremos nuevos anuncios de juegos que todavía no conocemos, aunque también recibiremos actualizaciones de títulos que ya hemos visto anteriormente como Planet of Lana y el propio The Gunk, que tenía prevista su llegada para el mes de diciembre, así que quizás se desvele su fecha de lanzamiento. También habrá novedades al respecto de otros interesantes juegos del sello independiente como Firegirl, Cursed to Golf, Source of Madness, Tinkertown y White Shadows.