Revive clásicos de esta portátil en tu Nintendo Switch con la edición física solo a la venta en GAME España; incluye grandes juegos de SNK de lucha, acción y más.
Ofrecido por GAME España.
NEOGEO POCKET COLOR, lanzada en 1999, fue la sucesora de la NEOGEO POCKET y destacó por una pantalla LCD a color. Ahora puedes disfrutar de algunos de los mejores juegos de esta portátil en tu Nintendo Switch, una experiencia para nostálgicos y aquellos que desean descubrir esta plataforma que en su día fue una maravilla técnica. Solo en GAME vas a poder hacerte con NeoGeo Pocket Color Selection Vol. 1 para Nintendo Switch en formato físico.
NeoGeo Pocket Color Selection Vol. 1 incluye los siguientes clásicos:
SAMURAI SHODOWN! 2.
KING OF FIGHTERS R-2.
THE LAST BLADE: Beyond the Destiny.
FATAL FURY FIRST CONTACT.
SNK VS. CAPCOM: THE MATCH OF THE MILLENNIUM.
METAL SLUG 1ST MISSION.
METAL SLUG 2ND MISSION.
DARK ARMS: Beast Buster 1999.
BIG TOURNAMENT GOLF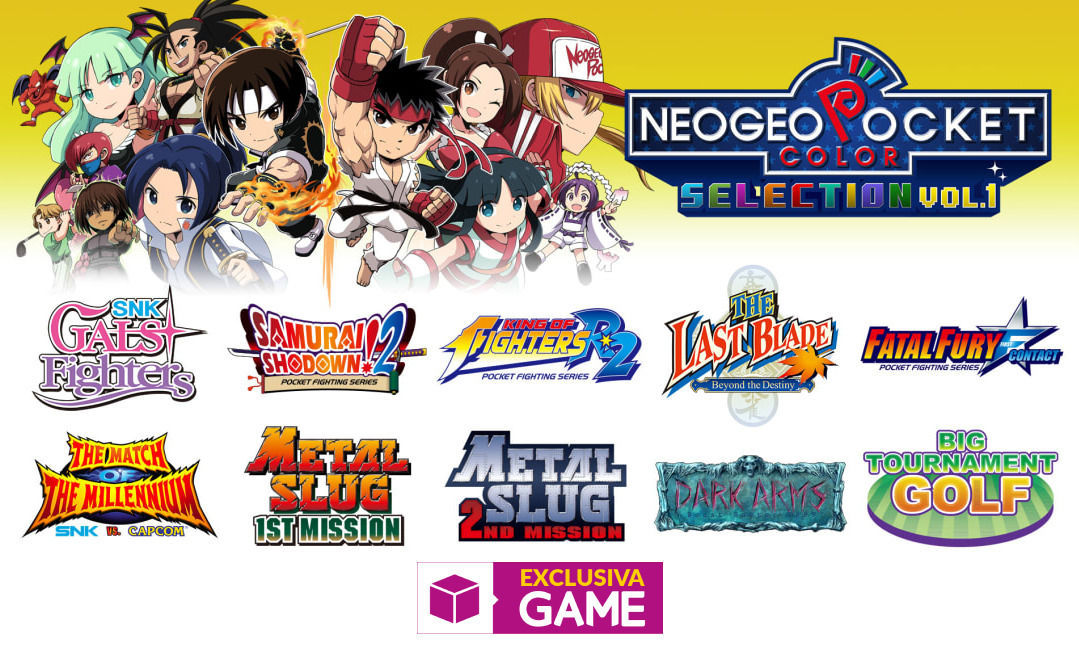 ¡Así que ya lo sabes! No te quedes sin tu edición en formato físico de NeoGeo Pocket Color Selection Vol. 1 para Nintendo Switch y hazte ya con él en GAME. ¡Ya a la venta!
Una colección imprescindible para fans de SNK
Para los más nostálgicos, los juegos compatibles con la NeoGeo Pocket se podrán jugar en monocromo y podrás ver los modelos 3D de los juegos originales y sus cartuchos. Los diez juegos se pueden disfrutar tanto en el modo sobremesa, como en modo portátil. Entre su catálogo destacan los Metal Slug, la veterana saga shooter 2D que brilló por la calidad de sus gráficos y animaciones, o algunos de los juegos de lucha incluidos en el recopilatorio.
Neo Geo Pocket Color fue una consola portátil de 16 bits lanzada en 1999 que fracasó en su intentó de comer terreno a Game Boy Color, y en su catálogo encontramos algunas joyas como SNK vs. Capcom, King of Fighters R-2 y otras adaptaciones de las recreativas. También recibió apoyo de otras desarrolladoras, como Sega, que lanzó Sonic the Hedgehog Pocket Adventure, basado en Sonic 2, adaptaciones de Taito, Namco y otras compañías, pero esto no fue suficiente para que el sistema desapareciese de la venta un año después.