Ya puedes probar este 'battle royale' gratuito y sin microtransacciones abusivas que se ambienta en el mundo de los vampiros.
Vampire The Masquerade: Bloodhunt, el nuevo battle royale gratuito con temática de vampiros de Sharkmob, ya está disponible en Acceso anticipado tal y como se había anunciado. "Una sucia traición ha provocado una guerra entre los vampiros, cuya existencia ya se veía amenazada por la Entidad, una sociedad secreta que los persigue para exterminarlos a todos. Usa tus poderes sobrenaturales, tus armas y la inteligencia en este battle royale en tercera persona para dominar la noche y restablecer la Mascarada", dice el estudio.
"Durante siglos, los vampiros han vivido y prosperado entre los humanos, manteniendo La Mascarada. Ahora, una traición ha provocado una guerra entre las sectas de vampiros, exponiéndolas a la sociedad secreta conocida como La Entidad. Con la sagrada misión de aniquilar a todos los vampiros, se lanzan a la caza por las calles de Praga", reza la sinopsis oficial ofrecida por la propia compañía. El título otorgará a los jugadores diferentes poderes sobrenaturales y armas para poder sobrevivir en el campo de batalla. Dado que es un battle royale, el objetivo final no es más que el de resistir los ataques de jugadores enemigos a lo largo de la duración de la partida para alzarnos con la victoria.
Vídeo: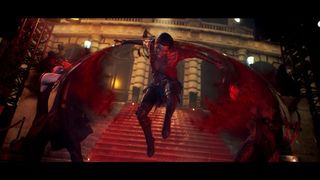 Bloodhunt no tendrá sistemas de micropagos abusivos
Vampire The Masquerade: Bloodhunt se trata de una experiencia battle royale completamente gratuita, hasta el punto de que la propia desarrolladora afirma que no habrá opciones pay to win u otro tipo de sistemas similares que puedan desbalancear las partidas entre jugadores. Al igual que en otros títulos similares, este título permitirá personalizar a nuestro personaje mediante diferentes tipos de looks que tendremos a nuestra disposición; también podremos escoger la lealtad de nuestro clan para definir nuestro estilo de juego.
"Forja alianzas impías o lucha en solitario sin que los humanos te vean. Los cazadores se han tornado en la presa. Lucha hasta la última gota de sangre para convertirte en el vampiro más poderoso y restablecer el orden", promete Sharkmob.